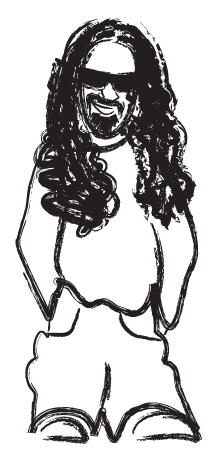 David Hearst

After nearly four decades of playing, David knows how to translate a musical idea into the vibrations of his guitar strings. His training with Joe Satriani and Uli Jon Roth, as well as G.I.T. gives him a unique ability to communicate musical concepts in both artistic and technical ways. David's deep musical knowledge and guitar skills combined with nearly three decades of songwriting, engineering, production and singing, give Crayonmaster® a diverse arsenal of tools and techniques for music production.
David's heart has always been devoted to heavy guitar and his lifelong quest is to capture the true tone of any guitar or amp. When that happens, you can hear the life in an artist's performance. Over the years he's learned to be open-minded about how that goal is accomplished while learning to focus on the resulting tone. David has also learned how to balance the drive for a perfect take with the magic of the happy accident.
Over the years, David has played with a number of acts. Since meeting Steve in high school, the two have worked together in Scattershock, Shatterbox, Exposé, Onyx and Saber and the many years of collaboration have honed their joint songwriting, arrangement and production skills. David and Steve have also worked closely with other artists, including Pledge Drive and Tricia Greenwood. Just for fun, Steve and David have collaborated on a number of holiday spoof songs, including "Jingle Bellz" and "Chanukah Nights", along with the classic Pledge Drive spoof, "Christmas Rhapsody", which pops up periodically on Bay Area radio stations near the Christmas holidays.
When he's not making music or spending time with his family, David works as a software engineer in Silicon Valley. His musical and creative skills have come in handy numerous times throughout his software career, especially as an employee at McDSP, FreeHand Systems and Digidesign. Those same skills allow him to effectively overcome musical challenges, even when a custom solution is needed. If you have a repetitive musical task that's driving you nuts, ask David about how it might be simplified or be solved with a custom tool.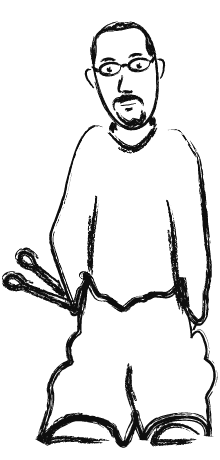 Steve Rosenthal

Steve got his first drum kit in middle school and dove right into performing with the school stage band. In high-school, Steve met David and they began what has turned into a decades-long musical partnership. Along the way, Steve studied with noted Bay Area musicians such as Kurt Wortman, Jeff Campatelli, and Donn Spindt. In addition, Steve has played live and recorded with Bay Area bands Dizzy Pilots, Smitten, Pledge Drive, Jason Becker, Tricia Greenwood, and the Linda Brady Band. But his most satisfying musical projects have been in partnership with David. Together, they formed several bands, Sabre, Onyx, Expose, and most recently, Scattershock, where they collaborated as songwriters and cut their teeth as engineers and producers.
For the past decade, Steve has mixed his love of music with the world of high-tech as a test engineer for Digidesign. He's seen first-hand the evolution of music production from analog to digital, all the while picking up key skills as a Pro Tools operator. He is constantly experimenting with drum recording and editing techniques to take full advantage of the best analog and digital have to offer.